Two strong partners... and all is well!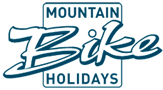 Our history as a bike hotel in Val Pusteria began in 1999 with our own passion for biking - because only if you're burning with passion for something can you enthuse others, fulfil expectations and offer moments of surprise. We are proud to be one of the best bike hotels in the Alpine region.

We know every trail, the most beautiful pastures and the most worthwhile refreshment stops with the most stunning panoramic views. Our expertise, experience and top service in our bike hotel in Val Pusteria, as well the dreamy flow trails in the biking region Valle Aurina-Plan de Corones-Dolomites have made thousands of biking enthusiasts very happy!

Host Agnes, herself an enthusiastic mountain biker and since 2004 a qualified biking guide, offers advice and personally accompanies guests on guided tours almost every day.
Since 1999 we have been a member of the Bikehotels Südtirol Alto Adige and since 2001 a member of Mountain Bike Holidays. We know that there is no single offer suitable for all requirements! Our many years as an active biking hotel have taught us that!

People's requirements for and ideas of a perfect winter holiday are as varied as people themselves. Biking is also a matter of fashion! In the early days what made a tour a highlight was the altitudes climbed. These days, it's frequently the altitudes descended! And so we have over time adjusted to the requirements of our new guests and our many returning guests. We offer themed tours, holiday packages with special services, tours with various degrees of difficulty, single trails and riding technique camps, freeride and downhill tours, eBikes, easy tours and gourmet tours!

Our bike hotel in Val Pusteria is the right address for:
Athletic bikers who are sociable, fun-loving and enjoy pleasure, and who don't want to miss out on variety on their biking holiday
Trained athletes who love to cycle with us or who charge off on their own with GPS and without guides
Wellness guests who seek relaxation and would like to be active
Families who love biking
Cycling enthusiasts who love their racing bikes
The ever increasing number of women bikers who expect that their wishes are catered for
Everyone wishing to try out an eMTB
In brief: Everyone who appreciates the sports on offer in our bike hotel in Val Pusteria, the good weather and the fantastic atmosphere!
The biking region!
Our biking region is an insider's tip: only half as well-known as other regions, but twice as varied! Our tours start in the valley, the hiking paths are not overcrowded and there is no queue at the start of the downhill runs. Whether on the well-developed Val Pusteria cycle path, the forestry roads or hiking trails and the flow trails in medium heights and through the top of the mountains, or along old pass routes: Everyone finds their own favourite tour here.

We look forward to bike-mad friends and send you kind regards from Gais.